Early spring is a great time for friends and family to gather and shake the dust off, share amazing food, and spend quality time together. Shareable food is always a hit with my crowd, and these sweet potato boats are stuffed to the gills with pure mouth watering flavor! Read on for the recipe.
Sweet potatoes are one of my favorite foods in the whole world. They fit in almost type of cuisine, and with a rich, earthy flavor, they are a great base for tons of dishes. I am also a huge fan of zesty, creative meals, so for this recipe, I turned plain old potato skins into something really special with the perfect Southwestern twist!
These ridiculously easy potato boats are chock full of fresh ingredients, and I kept the process simple by mixing in a little salsa verde to kick the flavor up a few notches. It is ready to go as-is, so I don't have to worry about taking the time to mix up any extra ingredients, and the verde flavors meshes so incredibly well with everything else! Salsa is a fabulous ingredient to use when you need to add flavor but don't want to waste time, and most brands have a variety for just about anyone.
This recipe will take you right at an hour to make, but 45 minutes of that is baking the potatoes, so you will really only need about fifteen minutes free time to work. If you are making these to travel, it is best to wait until you get them set up where you are going to sprinkle on the toppings. These are super easy to customize, so feel free to add or substitute anything you think would do well in them! Here is what you need:
4 large sweet potatoes, washed and dried
1/2 can black beans
1/2 can whole kernel corn
2 tbsp salsa verde
Diced tomato
Diced avocado
Fresh cilantro
Crumbled vegan white cheese (you can also use Goat or Cotija cheese.)
To make, you will first poke holes in your potatoes with a fork and bake at 375 degrees for 40 minutes until soft. Once finished, take them out and let cool for 5 minutes. Carefully slice each one in half, scrape out the insides, and put them in a large bowl. Make sure to leave a small edge around the sides so your boats can stand on their own. Once that is done, add in your beans, corn, chopped cilantro, and salsa verde, mixing thoroughly. Drop back into your potato boats by heaping spoonfuls.
Bake for another 5 minutes, and then sprinkle with all your toppings. Top with a little more salsa verde. Wasn't that easy?
If you aren't a green salsa kind of person, you can always use a more traditional variety of red salsa, or even swap in taco sauce or enchilada sauce.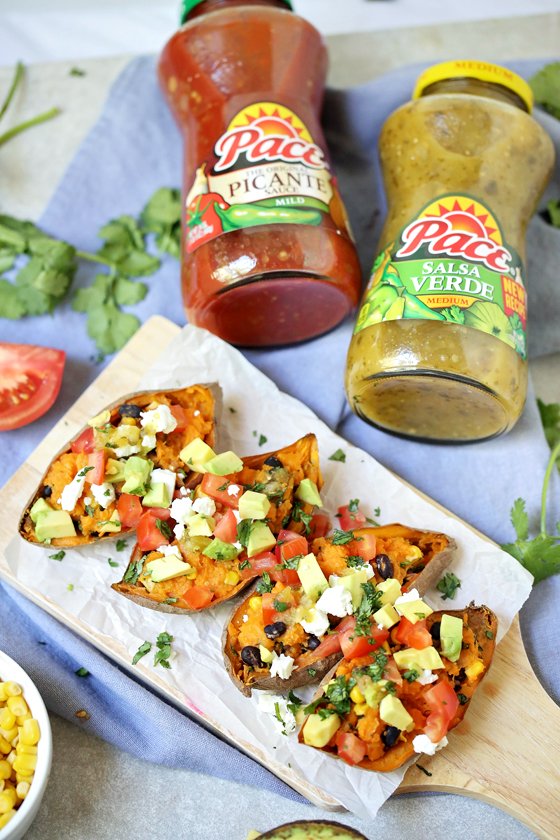 If you want to see the process from start to finish, here is a quick video for you!