This shop has been compensated by Collective Bias, Inc. and its advertiser. All opinions are mine alone. #StockedWithLove #CollectiveBias
Once December hits, I start making decorations, gifts, and all kinds of festive goodies for anything and everything I can think of. Out of all my holiday projects, my handmade stockings are my absolute favorite, and the ones that I love sharing the most. I'm not just about making them, though, because stuffing them serious business around here! Each year I come up with different themes and gifts to stuff in everyone's stockings, and this year is all about crafting!
I haven't always made a big deal about stockings. I first got the idea for my handmade patchwork stockings during Judah's first Christmas, when I was decorating our tree and realized we didn't actually have any. I decided to put together a bunch of scraps of fabric I had laying around, grabbed my sewing machine, and made the three in the photo above. Cute, right? They were super easy to make, and that first year we had them really set up our family traditions for years to come.
As I mentioned before, we take stocking stuffing seriously around here, and it all started that year I made ours. I hadn't really put much thought into them, so I stuffed my husband and son's with some random small things that I didn't think twice about. When I woke up, however, mine was full of paint brushes, paints, hot glue, some other craft supplies, and a giant box of decorative BAND-AID® Brand Adhesive Bandages. I was floored at the thought that went into it, and even the BAND-AID® Brand Adhesive Bandages meant something – he said he saw that my hands were always cut, cracked, scabbed from hot glue and dry from constantly washing off paint. So, he found some decorative BAND-AID® Brand Adhesive Bandages and put them in my stocking as a nice gesture.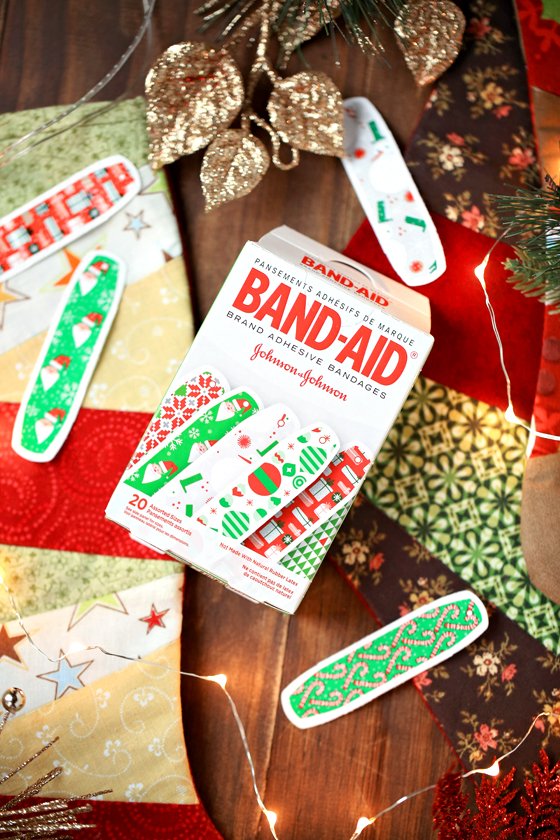 Every year since, he has always put in a box of them with the cutest patterns and designs. And yes, they are always the BAND-AID® Brand Adhesive Bandages because they are the best at helping heal hurts faster, and are the #1 doctor recommended brand. I saw these adorable holiday designs at Target the other day, and since I am stuffing craft inspired stockings this week, I grabbed some of their holiday collection along with Paw Patrol and Star Wars too! Aren't these super fun looking? Click on my above image to shop for yourself.
Now that I've shared our quirky tradition, let's talk stuffing. Crafters love being gifted things to make, so if you have one in your life, grab the supplies listed below, wrap them up in cute string, and stuff them in their stocking along with a fun printed out set of instructions. Also, make sure to snag the adorable gift tab printable at the bottom of this post!
Wood Slice Snowmen Ornaments
This is one of the simplest crafts that you can do, but it looks amazing! Kids can paint their own, but you will need adults to do the drilling. If you are making these for a party or multiple person activity, go ahead and pre-drill holes before painting.
Here is what you need:
White acrylic paint
Wood slices – find these in any craft store for a few dollars per pack, or cut your own from small branches
Black and orange permanent marker
Yarn or ribbon
Drill for making a hole at the top
Start by painting one side white. Depending on your paint, you might need a second coat.
Next, draw a face using your markers, drill a hole in the top, and string a ribbon or piece of yarn through. Voila, you are finished!
You can also use these wood slice snowmen for other types of decorations, like on a fun wreath.
Everything someone needs to make these fits nicely in a stocking, and don't forget to add extra brushes, and of course your BAND-AID® Brand Adhesive Bandages! P.S: Print these out to hang on your stockings. Just click, and print!
SaveSave